Viora Skin Tightening and Body Sculpting
THE VIORA TREATMENT HELPS WITH:
Total Face & Body Solution
Skin Tightening
Skin Lifting
Stretch Marks
Post-Acne Scars
Body and Facial Contouring
Circumferential Reduction
Cellulite Reduction
Skin Resurfacing
Skin Rejuvenation
Viora™ is the ONLY Full Body Platform for the Body & Face for complete head-to-toe contouring, skin tightening, body sculpting, cellulite reduction and so much more.
The Viora system is one of the world's leading medical systems for skin tightening & body sculpting. Loose skin can feel like a hard-to-beat problem for many people at some stage in life, particular as we grow older.
As we age, we all lose some of the natural elasticity in our skin, as collagen levels gradually drop. The result can be skin that appears loose and saggy, which can be a particular issue around the chin, upper arms and on the thighs. Loose, saggy skin may also be the case where someone has undergone some weight loss.
Viora skin tightening treatments utilizes radio frequency energy to stimulate existing collagen and elastin fibers, enhance collagen secretion and improve the skin's elasticity over time. From the very first treatment, collagen fibers are contracted, giving an immediate firmed and tightened appearance. Radio frequency skin tightening is suitable for most areas of the face including the jowls, cheeks and forehead as well the sensitive areas of the eyes, neck and décolleté. And now, unlike any other system, Viora skin tightening treatments can also treat stretch marks and lax skin on various areas of the body such as the tummy, underarm, calves and hips.
*The benefits of Viora Reaction skin tightening treatments are endless and can include up to 80% improvement in skin texture after the first session. Treatments are fast, safe and non-invasive with no reported discomfort during or post treatment and no associated adverse effects recorded. Viora is FDA cleared & clinically proven and has been chosen by medical aesthetic professionals worldwide for its superior performance and life changing results.
Recommended: 6 sessions at $2,400 (Call for current sales, specials & incentives)
First 3 clients who book in a new month will receive 6 sessions at $1,800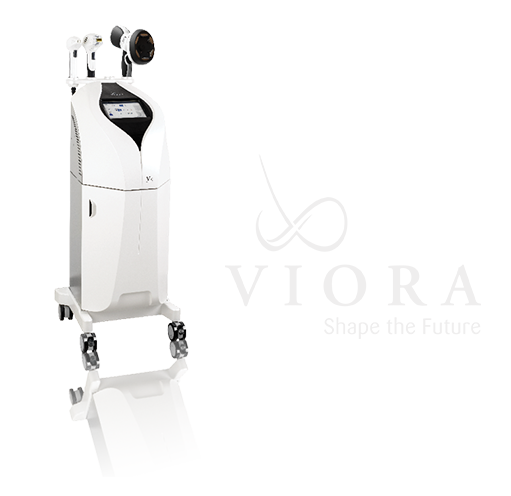 How does treatment work?
Viora cutting edge core technology applies an advanced combination of radio frequency and vacuum therapy to offer the most effective facial and body tightening treatment on the market.
What's so fantastic about Skin Tightening with the Viora System is that it allows for penetration depth control with the added benefit of treating all layers of the skin in one treatment session. For the patient this means a more effective treatment through textural improvement, collagen stimulation and skin tightening all in a single treatment.
What does the Viora skin tightening treatment feel like?
During the treatment, you will experience dual sensations of hot and cold temperatures on the surface of your skin. The integrated skin cooling mechanism ensures that the temperature of your skin is maintained throughout the treatment duration, and patients feel comfortable and relaxed throughout the duration of treatment.
How many treatments will I need to see results?
Positive results are generally seen after the first treatment. A minimum treatment course of 3 to 6 sessions is recommended for optimal results, however response to treatment varies from person to person. We will be able to establish a proper treatment guideline that suits your profile after your initial consultation.
How effective are the treatments?
Skin tightening treatment has been very successful in improving laxity (loose skin) and softening fine lines and wrinkles.
The cellulite and body contouring treatments have also generated exceptional results, as early as the first treatment. Patients have recorded a firmer and smoother appearance post treatment, with visible results.
How long are the sessions?
Skin Tightening treatments require approx. 20-60 minute sessions depending on the size of the area being treated.
Is there any recovery or down time?
There is absolutely no downtime. Patients can return to their daily routine immediately after the session. Your skin may appear flushed for a few hours. Make-up can be worn after treatment.