Radio Frequency Skin Tightening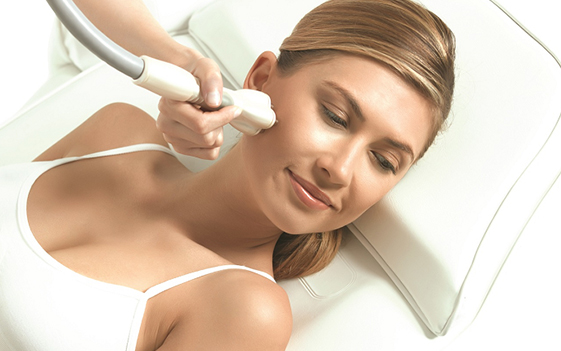 LOW LEVEL RADIO FREQUENCY BENEFITS:
Face, jaw and Neck Lifting & Contouring
Tightening & lifting sagging areas of the face
Reduces Wrinkles
Enhances luminosity of the skin
Fat Reduction
Production of new collagen
Tighten loose skin (collagen contraction)
Non invasive warm heat applied to the skin to contract collagen, tighten skin and stimulate new collagen regeneration.
Low level radio frequency is the latest technology to tackle face and neck areas in need of rejuvenation and tightening due to the loss of elasticity in middle age without pain, redness or tissue damage. The treatment uses warm, comfortable radio frequencies to gently heat the subcutaneous dermal tissue. This gentle process causes the contraction and tightening of the existing collagen fibers, encourages fibroblast migration and production of new collagen and elastin growth that helps to effectively tighten and improve the outer architecture of the skin, jowls, mouth, chin, eyes, and neck of all skin types and color.
You will see the lifting effect and feel how your skin becomes tighter, smoother, and more elastic approximately 2 weeks after a treatment. There is no down time and the procedure feels like a warm face massage. The goal of the low level radio frequency face lift is to restore a more youthful look by helping to reverse the signs of aging and gravity without any discomfort. Monthly treatments are recommended to slow the appearance of the aging process and weekly treatments for 10-12 weeks recommended for the appearance of age reduction 5-10 years.
Recommendation: Deep hydration of the skin is recommended once a week for 10 weeks to hydrate severely dehydrated skin or monthly to keep skin hydrated or as an adjunction to other skin anti aging procedures to enhance the results and prior to travel on a plane, and exposure to extreme temperatures or wind.