LUMINOX LIGHT THERAPY
LIGHT EMITTING DIALS – LED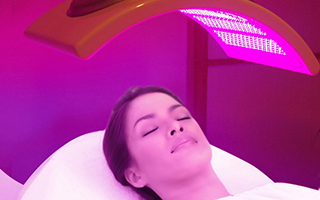 LUMINOX SYSTEM-RENEWAL LIGHT THERAPY:
Fine lines/wrinkles are diminished
Kills acne bacteria to reduce inflammation and clear the skin
Redness and flushing are reduced
Pore size is reduced
Skin tone is improved
Non invasive, non UV, red and blue light therapy to repair and rejuvenate skin.
Our non invasive Luminous System is a professional, powerful, clinical natural light therapy for those who love the benefits of lying in the sun without the side effects of UV damage. The photons, delivered by 2400 luminant light emitting diodes, energize the skin cells, and help to accelerate the process of skin renewal, revive dull skin, lighten hyper pigmentation, and reduce pore size to give you a glowing complexion. The natural photons also help to accelerate the repair of recently injured, burned, and scarred skin tissue by stimulating the production of ATP, the cell's fuel system, and make new collagen and elastin. Thus, the LED gives the cells a 'full tank of fuel' and fibroblast cells are able to produce new collagen and elastin like when one was young.
The 440 nm blue light is absorbed by the surface of the skin, naturally killing bacteria, to discourage and combat acne and help reduce inflammation in eczema and dermatitis. The 630nm red light penetrates the deeper layers of the skin to help increase blood circulation, accelerate collagen production, and promote skin regeneration to reveal smooth, supple and glowing skin. The light induced rapid skin turnover helps to bring forth healthy and youthful skin without the use of harsh chemicals, UV radiation or painful, intense heat based lasers. Light therapy was originally developed to fast track the healing of wounds and post surgery scars.
The red light also supports its effectiveness in treating seasonal affective disorder, postpartum depression, anxiety and insomnia due to serotonin deficiency. The Luminox System is recommended as a stand alone skin renewal treatment and as an adjunction to other skin anti aging procedures to enhance results.
Recommendation: Light therapy can be used as often as one is available and recommended at 2x/week for 6 weeks for the treatment of acne and skin renewal.